My Father's Spaghetti Sauce
Here's a recipe for absolutely killer spaghetti sauce that my dad used to make. Recipes for meatballs and for Italian sausage will follow shortly.
Spaghetti Sauce
1½ Cup – Chopped Onions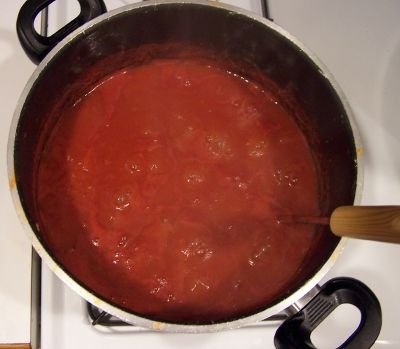 1 Clove – Garlic
1/3 Cup – Olive Oil
2 #2½ Cans – Tomatoes
4 x 6oz Cans – Tomato Paste
2 Cups – Water
1 Tbl – Sugar
1 Tbl – Salt
½ Tsp – Pepper
1 Tbl – Crushed Oregano
2 Tbl – Parmesan Cheese
2 – Bay Leaves
Preheat oil.
Cook onion and garlic in hot oil until brown.
Stir in next Eight (8) ingredients
Simmer Uncovered for 30 minutes
Remove Bay leaves
Add cooked meatballs or Sausage if desired
Continue cooking uncovered for an additional hour, minimum. (Splatter screen recommended)
Technorati Tags : Italian, recipe, comfort+food, spaghetti, pasta, sauce, tomatoes